A few days ago, Google introduced a new feature in Search Engine Result Page, called Instant Preview, which allows users to see what a website looks like before committing to click through to the website.
Google Instant Preview -Influence on User
Since a few days, the links listed in search engine result page display with a small magnifying glass icon. Click on the icon and you will see a thumbnail preview of the destination page with a brief description snippet. It is obviously nothing more than a next step to make us stay on Google longer as users can scan through thumbnails without entering the destination web page. The question is how many people will actually use this new functionality and if we start using it, what kind of influence it will have on Click Through Rate?
First tests conducted by SimpleUsibility.com shows quite interesting results. When the new functionality had been introduced it was very confusing for the user. First of all, the user didn't notice the magnifying glass icon, then after finding and clicking on it he(or she) got confused which link to click to get to the website. On top of that, the eye tracking tool showed that user completely did not pay any attention to the keywords highlighted in the orange box.
(To be fair, one needs to assume, that the eye tracking tool is bound to become more useful in measuring this new feature when the  feature becomes more popular and highly used.), have at the image below:
According to Google's official blog people who use Instant Previews are 5 percent more likely to feel satisfied with the website they chose. It seems this feature will be welcomed by searchers and used in their decision-making processes, therefore it is important to focus on optimising that preview to get the most out of it!
Google Instant Preview Optimisation
While SEO is still most important for ranking high in Google as that new functionality did not change Google search algorithm, Instant Preview becomes responsible for getting the most from the reached position in SERP. It means that aesthetics in web design become more important than ever as the page thumbnail displayed via Instant Preview feature will influence the user to click (or not).  Also, as users are able to see their search terms in context, copywriting is getting even higher importance than it had before as users are get virtually slapped in the face with the highlighted and bold keywords.
So what definitely helps, especially for your top landing pages:
Keep structure of the site as simple as possible
Use large branding (logo on the top of the page) –  allow people to remember it
Use colourful, bright designs and avoid red colour! The large graphics and well made images grab attention and make people click. Red colour causes the opposite reaction!
A bit tricky, but might also work- leave a message to the potential visitor
Delete any flash from all imporant landing pages, the Google Instant preview takes a photo and instead of your flash presentation, it will show a gray ractangle which might give a wrong impression
Be aware that your red, purple and orange elements will degrade in the preview image even more than any other colors. This is due to an issue occurring when jpg images are highly compressed and affects the above mentioned colours especially
Here is a really great example provided by CreativeBits.org, which actually sum up all the above: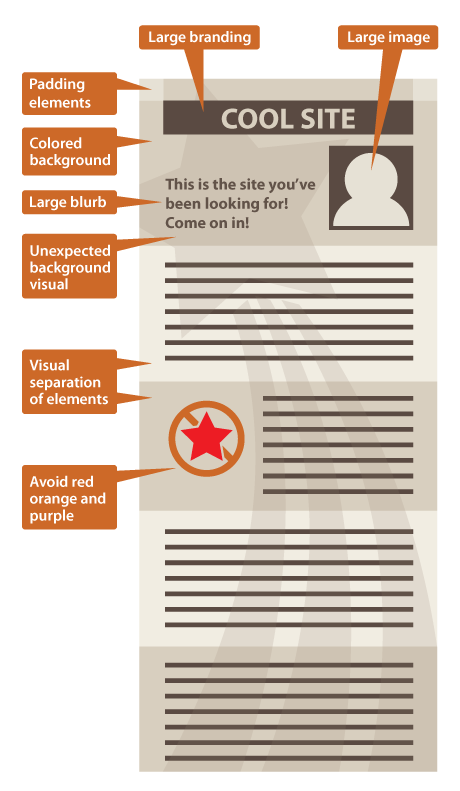 All the above shows that a team work between seo and design is more important than ever to get the most out of search!
Anyway, I already went through all my Google Previews for this blog and it looks like I have to pay much more attention to that. There is no break in SEO:)